Gateway Redevelopment Group (GRG), a 501 (c)(3) not-for-profit organization was formed by a group of neighbors with the desire to save the abandoned historic structures in Davenport's Hamburg Historic District. Our first challenge was the Jipp home and grocery at the corner of 8th and Gaines
.
The Jipp serves not only as our office, but a place to tell the story of the Jipp's place in the Hamburg Historic District, the Neighborhood Resource Center, and the home of our
Architectural Rescue Shop
.
The shop is used to sell, collect, preserve, restore, and display architectural items from other vintage houses being renovated or demolished in the Quad Cities. The profits from the sale of these items are used to help in the restoration of this and other abandoned homes in our neighborhood.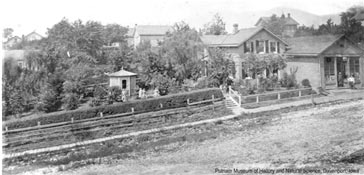 Christian Jipp Home and Grocery ca 1868 photo circa 1880, courtesy of the Putnam Museum