---
Window Shed Project
What can happen when:
You take some inspiration from the garden shed at 2 Sisters in Kalona
---
use some the salvaged beams from our 53rd street barn project
---
recycle some roof tiles from the Moline train depot
---
add some of window sashes and architectural items we have salvaged from around the Quad Cities.
Let's see what will sprout in the spring!!!!
---
October 11, 2016
Mark and Kerry taking a break from working on 517 Ripley
October 15, 2016
We have a front door, what's next??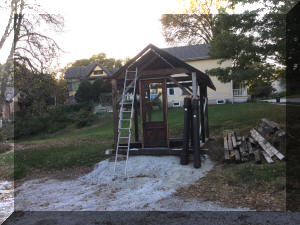 ---
November 16, 2016
David working his magic!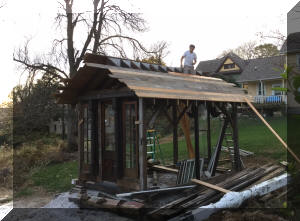 -------------------------------------------------------------------------------------------------------------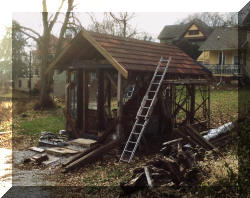 November 2017 a little progress thanks to Craig
-------------------------------------------------------------------------------------------------------------
---