2229 Adams Street
Davenport, IA
June 6, 2016
Genesis gave Restore and GRG one day to salvage 3 homes they are taking down for their east campus expansion.
We had eleven willing volunteers, put in over 81 hours, help in our salvage efforts. While Restore worked on the Elm St. house we worked on Adams St..
Besides inventory for the shop we salvaged enough fir flooring and a fairly new bathroom sink for our 517 Ripley street project.
All thanks to Scott, Terry, Frank, Marion, Jack, Steve, Merle, Ryan, Lynda, Dick and James.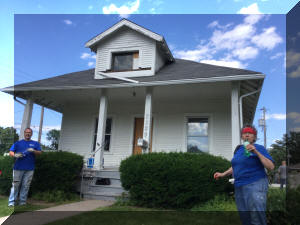 Items removed from 2229 Adams St.

Cast iron claw foot tub

,

Pine medicine cabinet

,

Bathroom press glass window sash

,

2 old glass light shades

,

9 - Cast iron floor registers

,

7 - 5 panel doors, jambs, hardware and trim

,

Pine room divider

,

Attic window

,

Pair French doors

,

Beveled glass front door and trim

,

Wooden storm door

,

7 sets-Pine window trim

,

20 ft. pine base board

,

Pine kitchen cabinets

,

350 sq. ft. fir flooring

,

20' pine plate shelving, Porch railings

Items removed from 2023 Bridge St.

5 - 2 panel doors and hardware

,

Basement cast iron sink

,

Iron porch railing

,

Bathroom sink

,

Wooden front door