While, on a salvage job at the ILLINOIS OIL COMPANY in Rock Island, Marion went to check out the vault.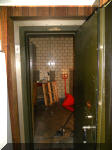 "Come check this out, " she says.
After a little research we find out this is a circa 1900 Victor Cannonball safe.
It is very collectible, IF you can find a buyer that wants to pick up a 3,000 pound safe.
---
The call goes out to Dennis >>How do we move a 3,000 pound safe???
<<<<< C A R E F U L L Y >>>>>
of course.
First, jack it up and get it on a pallet jack, then transfer it to a pallet cart...
Next, with the help of a fork truck, the safe sees its first light of day in almost 100 years.
Then into Dennis' truck.....
.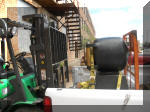 but the safe is too heavy or is the truck too light...
---
Mark happens to come by and offers his truck and a helping hand.
A short drive across the Mississippi, to the oak tree in front of Dennis' house, the safe is lowered onto 7th Street "safe and sound."
Now what do we do with a 3,000 pound antique safe!!!